Jim McGregor named Chieftain for 2017
The Directors of Crieff Highland Gathering are delighted to announce that this year's Chieftain will be Jim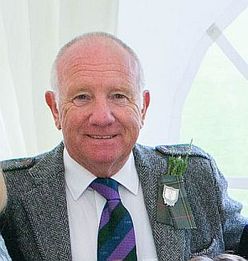 McGregor.
The former Morrison's Academy PE teacher has had a close and long standing association with CHG dating back nearly 40 years, 30 of those as a Director and more recently as an Honorary director.
Although Jim retired from the Board of CHG several years ago he has continued to assist with the setting up of the park in the week leading up to Games Day as well as taking an active part on the day itself. His dulcet tones can be heard over the loudspeakers as he uses his wealth of knowledge to keep the crowds informed of the activities on the field in his role as commentator, a role Jim will have to relinquish, for this year at least!
Jim said "I would like to thank Chairman Ian Stewart and the Directors of Crieff  Highland Gathering most sincerely for their fantastic invitation to be Chieftain at this year's Gathering.  I consider it a great honour to have been asked and very much look forward to what will be a very special day in the lives of myself and my family."
CHG Chairman said "We are absolutely delighted that Jim has accepted our invitation to carry out the duties of Chieftain for this year. His contribution to CHG over the last 40 years has been immense and no one is more deserving of this honour"