Your 2017 line up playing in The Glenturret Music Tent
Following on from the huge success of 2016, Crieff Highland Games have once more secured some of the best musician coming out of Scotland.  We are delighted to announce not one but three fantastic acts : Tide Lines , Rollin Drones and winners of the 2017 BBC Radio2 Folk Awards duo, Ross Ainslie & Ali Hutton.
Tide Lines
Tide Lines are a four piece band from Scotland who are heavily influenced by the traditional music of the West Highlands and Islands, but whose highly eclectic sound is driven by acoustic and electric guitars, with drums and keyboards.  Their first single "Far Side of the World", entered the UK download charts ahead of popular tracks by Coldplay and Beyoncé, as well as Adele's "Hello", less than 24 hours after the band was launched on social media in June 2016.  Tide Lines consists of Robert Robertson from Lochaber, Ross Wilson from the Island of Mull, Alasdair Turner from Alness and Fergus Munro from Glasgow.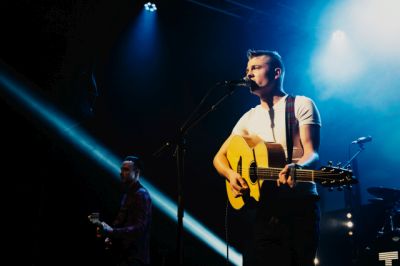 www.tidelinesband.com   www.facebook.com/wearetidelines   www.twitter.com/wearetidelines
The Rollin' Drones
Rollin' Drones are the newest and most exciting Bagpipe-meets-Guitar band on the scene! With the massive surge in appreciation of the bagpipes, and their introduction to the world of mainstream music, the doors have been opened for the Rollin' Drones to cement their place in Scottish Music history.
The Rollin' Drones have almost jumped over the "Bag-Rock" genre, and have created their own unique new blend of Music, of which they are calling "Pipe-Pop".
With two amazingly talented championship winning pipers at the helm, a uniquely talented Banjo player, and a Strong Rhythm and Percussion section, this band are extremely tight, and really push the boundaries of the bagpipes to their absolute limits! The Band also consists of a Guitarist and Piano player who are both as comfortable sitting back, filling in Rhythm parts, as they are at taking big solo's. The band also has a Contemporary/Highland dance troupe that joins them on stage, which adds some real visual value to their performance!
In their short time on the scene, the band has performed at several high profile charity functions.  Some of their most high profile shows to date are as follows:
- British Basketball Championship finals at the Emirates arena
- Open Air in the Square supporting Deacon Blue
- Main stage at ButeFest supporting Idlewild
- Chinese New Year @ Usher Hall in Edinburgh
- Kircudbright Tatoo
- ScotCon - Corn Exchange, Edinburgh
- Main stage at the Scottish Car Show
At the end of April this year the Rollin Drones went on a brief 3 day tour of Belfast before launching their debut album "The Big Shoe" At the Garage in Glasgow, they then toured the album throughout Europe, taking in The Netherlands, Germany and France on a 5 date tour finishing up a triumphant welcome home, joint headline show at Gig In The Goil followed by a storming appearance at "The Big Ceilidh" in Campbeltown a week later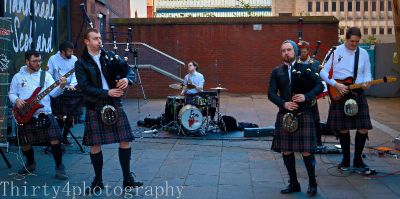 Ross & Ali
Ross Ainslie and Ali Hutton, internationally recognised multi-instrumentalists, composers and arrangers in the vibrant and ever evolving Scottish traditional music scene, have come together in an eagerly awaited collaboration to create their stunning new album "Symbiosis".
Ross and Ali have a long history of shared musical roots from their days with the Value of Atholl pipe band, at the age of 12.  They were mentored by one of the most innovative pipers in the last 30 years, the late great Gordon Duncan.  Gordon sparked a deep passion in Ross and Ali for playing popes with other instruments and they went on to be founding members of the musical powerhouse Treacherous Orchestra as well as playing with bands such as Old Blind Dogs, Salsa Celtica, Dougie Maclean, Shooglenifty, Zakir Hussain, The Levellers and Capercaillie.
Their individual and joint musical journeys have led them through a long list of high profile awards and nominations going back as far as 2005.  In 2015 they saw prestigious acclaim in the Scots Trad Music Awards with Ali's nomination for Instrumentalist of the Year; Ross awarded Composer of the Year.  Early recognition has come already for the duo's album "Symbiosis" which ahs been shortlisted for Album of the Year in the Scots Trad Music Awards 2016.
Ross' studio output includes "Wide Open", "Remembering" and two well received albums with Uilleann piper Jarlath Henderson, "Partners in Crime" and "Airfix".  Collaborations include India Alba, Dougie MacLean and Salsa Celtica.
Ali Hutton's early career saw him part of Back of The Moon from 2003 onwards.  He has since produced critically acclaimed albums for Maeve Mackinnon, Old Blind Dogs, Rura, Clare Hastings and Treacherous Orchestra.  He collaborates with artists such as Duncan Chisholm, Ross and Jarlath.
Ross and Ali's live performance deliver music with atmosphere, energy and passion.  Working primarily with their own compositions they combine their rich musical experiences to produce an exciting and beguiling sound with an undeniable synergy forged from a lifetime of friendship.