The Glenturret Music Arena attracts top bands
The Glenturrent Music Arena is certainly considered to be one of the highlights on the day and goes from strength to strength bringing local, national and international music acts to the stage, with the 150th anniversary year being no exception!  Crieff Highland Gathering are delighted to introduce you to three fantastic bands for you to experience on the 16th August! 
The Red Hot Chilli Pipers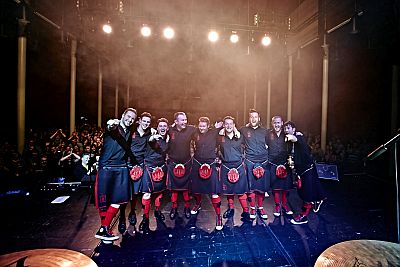 The Red Hot Chilli Pipers need no introduction, bagpipes with attitude, drums with a Scottish accent and a show so hot it carries its own health warning.  The band's achievements have reached incredible heights with their ground-breaking fusion of traditional Scottish music and Rock / Pop anthems which they proudly call 'Bagrock'.  Performing at NBC, The Commonwealth Games, BBC Proms, TITP and the Rugby World Cup they truly are a global success.  Sold out tours all over the world and with fans including Crieff's very own Ewan McGregor, Sir Paul McCartney, Her Majesty the Queen and Samuel L Jackson you need to come and hear them play! 
The American Rogues
Drawing favourable comparisons to Wolfstone, Afro Celt Sound System, and Trans-Siberian Orchestra  and consistently providing performances from Grade 1 bagpipers and other world class musicians this Canadian/American group has electrified audiences on three continents for many years.  They have added to their ever-growing family of fans at music festivals, theaters, Highland Games, military bases, clubs, weddings, memorial ceremonies, wineries, and corporate events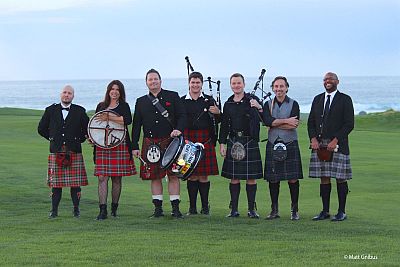 anywhere that presents top-quality, high-energy music. This has even included shows with world-renowned violinist/composers Lindsey Stirling and Alison Krauss, as well as airplay on TV and radio, and shows at non-Celtic venues such as the World Music Festival in Quebec, Canada where they kicked off the 6 day event to widespread acclaim (they've played this festival 7 years in a row and counting).  In 2017 they became the "St. Paddy's Band" of Rogers radio stations nationwide when they recorded Celtic versions of contemporary songs for airplay, 2018 saw them appear at festivals in Scotland (including their appearance as the first international act at the Cowal Highland Gathering, one of the largest Celtic events in the world), and 2019 saw them headline in Abu Dhabi and at the Greg Frewin Theatre in Niagara Falls, and sell out the Harbourfront Centre Theatre in Toronto with Japanese taiko group, Nagata Shachu.  For 2020 they have been invited to return to Scotland to perform the 150th Crieff Highland Gathering and they will also continue to perform Celtic/Japanese Hybrid Music with Nagata Shachu under the name "The Dragon & the Rising Sun".  With shows in Japan, Scotland, Italy, Spain, Guam, Cuba, Greece, and the United Arab Emirates, their hard won road successes have established them as artists with bona fide international acclaim.  Renowned for their musical skill, quick wit, compelling storytelling, and engaging stage show the AMERICAN ROGUES have mastered the art of creating an immediate connection with audiences who can't stay in their seats.  They are equally known for their epic, multi-instrumental sound that crosses the musical landscape to include jigs, reels, hornpipes, ballads, originals, covers, soundtracks, patriotic and military music, Irish foot-stompers and more.  The AMERICAN ROGUES are fast becoming a household name with music lovers around the world, loved by young and old of all backgrounds.
Elephant Sessions
'The versatility of Elephant Sessions is its strength. Passionate about their culture and their origins, these Scots are using their instruments like weapons to destroy clichés...We love them' Rolling Stone Magazine
'Absolutely superb...' Chris Hawkins (BBC Radio 6)
Elephant Sessions transcend boundaries and shake the very foundations of expectation.  
Hailing from the Highlands of Scotland, Elephant Sessions released their new album " What Makes You" on May the 10th of this year. With over 1.5 million spotify streams and charting across Europe, Elephant Sessions return from a tour of Australia to perform a few UK shows in the Spring of 2020.
May 2019 saw the release of third album 'What Makes You', once again to great acclaim. A UK tour was followed by a summer of festivals across Europe, including Glastonbury, Boomtown Fair, Tonder Festival, Wickham Festival, Belladrum, Towersey, Skye Live and the opening ceremony of the Solheim Cup. Closing the year with sold out shows in both their home towns of Glasgow and Inverness, the band have notched up over 1.5 million spotify streams and charted in digital charts across Europe and Australia. The band spend Hogmanay/ New Year's Eve by magically managing a simultaneous appearance in both Scotland and Australia! An appearance on BBC Scotland's Hogmanay show will keep fans at home happy, whilst a live concert at The Woodford Festival in Australia will officially open year- long activities for the Year of Scotland in Australia.
Returning from a tour of Australia in January and a quick appearance at Folk Alliance international in New Orleans, the band will once again head out on the road to perform a few dates across the UK.
Exploding onto the indie folk scene to unparalleled effect with their last album "All We Have Is Now", the band have since appeared at some of the world's most notable venues and festivals with audiences crowd surfing their way through the summer and marquee floors breaking under the weight of bouncing fans.
The Mercury nominated Alt-J, along with BBC Radio 6, found themselves converted to the band's unique brand of indie folk. Reviews from Rolling Stone Magazine sat alongside folk magazine coverage. Radio features accompanied documentaries and highlights shows on television stations.  
Charting in the French,  download charts and selling bucket loads across Europe, 'All We Have Is Now' firmly established this band as completely unique.
2018 saw awards in abundance. Opening the year as winners of Album of the Year at the BBC Scotland Trad Awards, they went on to be finalists as Best Group at the BBC Radio 2 awards. In May, Belhaven Brewery got together with the band to award the first ever Belhaven Bursary for innovation in music. The bursary amount matches the Mercury Music prize and was awarded in recognition of their unique and outstanding sound. It was accompanied by the bands own beer 'Elephant Sessions Ale', which was launched in May 2018.They closed the year by picking up the coveted BBC Scots Trad Award as Live Band of the Year.
Closing 2018 by picking up the coveted Live Band of the Year award (BBC Scots Trad Awards) the band, who met on the Newcastle University Folk Degree, have transformed traditional music. and opened 2019 with performances across Europe. The year saw several great highlights including a second performance at the 30th anniversary celebrations of the legendary Blues Fest in Australia, their first performance at Merlefest in the US.  Performing at Glastonbury, Boomtown Fair, Belladrum, Wickham and Tonder Festivals plus sell out concerts in both their home towns of Glasgow and Inverness, meant 2019 was one of their most successful years yet. 2020 promises to be just as great! Opening with their first Australian tour the band return in April for a second tour. Several major festivals are also confirmed and they will make their first journey to China for a short tour.
Watch out for this band – they have transformed traditional music!